"Learning together, achieving together and building foundations in Christ"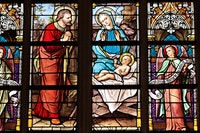 The aims of the RE department is to enable students to develop a fundamental understanding of religious beliefs and practices, whilst also encouraging the spiritual and moral development of each individual student.
Learning together: RE teachers provide a stimulating curriculum, within a purposeful environment, that enriches the learning of the student. Our students are encouraged to be confident and resilient learners in order to rise to the challenges they will encounter, within the school, the community and beyond.
Achieving together: The RE department aims to instill a sense of aspiration in the student through positive attitudes and high expectations. Students can expect a high focus on developing religious literacy and a consistent approach to excellent progress for all.
Building foundations: The RE department works in harmony with the school Chaplain to promote the values, virtues and ethos that shape our students' character and moral perspective, through the teachings of the Catholic Church.
In Christ: The RE department places the values that Christ taught us at the centre of all that we do. This means integrating Gospel values given by Christ himself and the teachings of the Catholic Church into every aspect of learning, teaching and the totality of school life. We aim to provide a nurturing environment for the spiritual development of all students regardless of their faith. It is an act of respect and compassion that our curriculum helps them to develop their own spiritual growth and reflect on the nature of their own religious identity.
Year 7
Creation and the nature of God
The Bible and prophecy
From Galilee to Jerusalem - Jesus' ministry
From Desert to Garden
To the Ends of the Earth
Dialogue and Encounter
Year 8
Why do promises matter?
How is faith put into action?
Are there limits to forgiveness?
Why do we celebrate?
Exploring Islam
Exploring Sikhism
Year 9
Who is Jesus
Discipleship
How can we spread the story about Jesus?
Jesus' moral teachings
Sources of Wisdom and Authority
What do Jews belive and practice?
Year 10 GCSE
Catholic Christianity
Sources of Wisdom and Authority
Forms of Expressions and Ways of life
Philosophy and Ethics - Arguments for God
Judaism
Year 11 GCSE
Judaism
Philosophy and Ethics
Catholic Christianity
Philosophy and Ethics
Practise AO1/AO2 Exam Skills
Links to Other Subjects
History—Renaissance, Reformation, Medieval Views
English 'A Christmas Carol'
Science—Adaptation and Inheritance, Evolution, Genetics, Chemical Changes, Rates of Reaction
ICT-Robotics
English– 'Frankenstein '
Geography—Climate change and damage to the environment
Science—Adaptation and Inheritance
Geography— Unequal world
History—Exploring Empire, War and Conflict,
English conflict poetry
English– Race relations in 'Naughts and Crosses'
Languages– social issues and global issues
Art– Form and perspective