In this section...
Year 7 Open Evening
Thursday 30th September 6.30pm - 8.30pm
OPEN EVENING FOR YEAR 7 STARTERS SEPTEMBER 2022
Online Booking Form: September 2022 Year 7 Open Evening Tickets, Thu 30 Sep 2021 at 18:30 | Eventbrite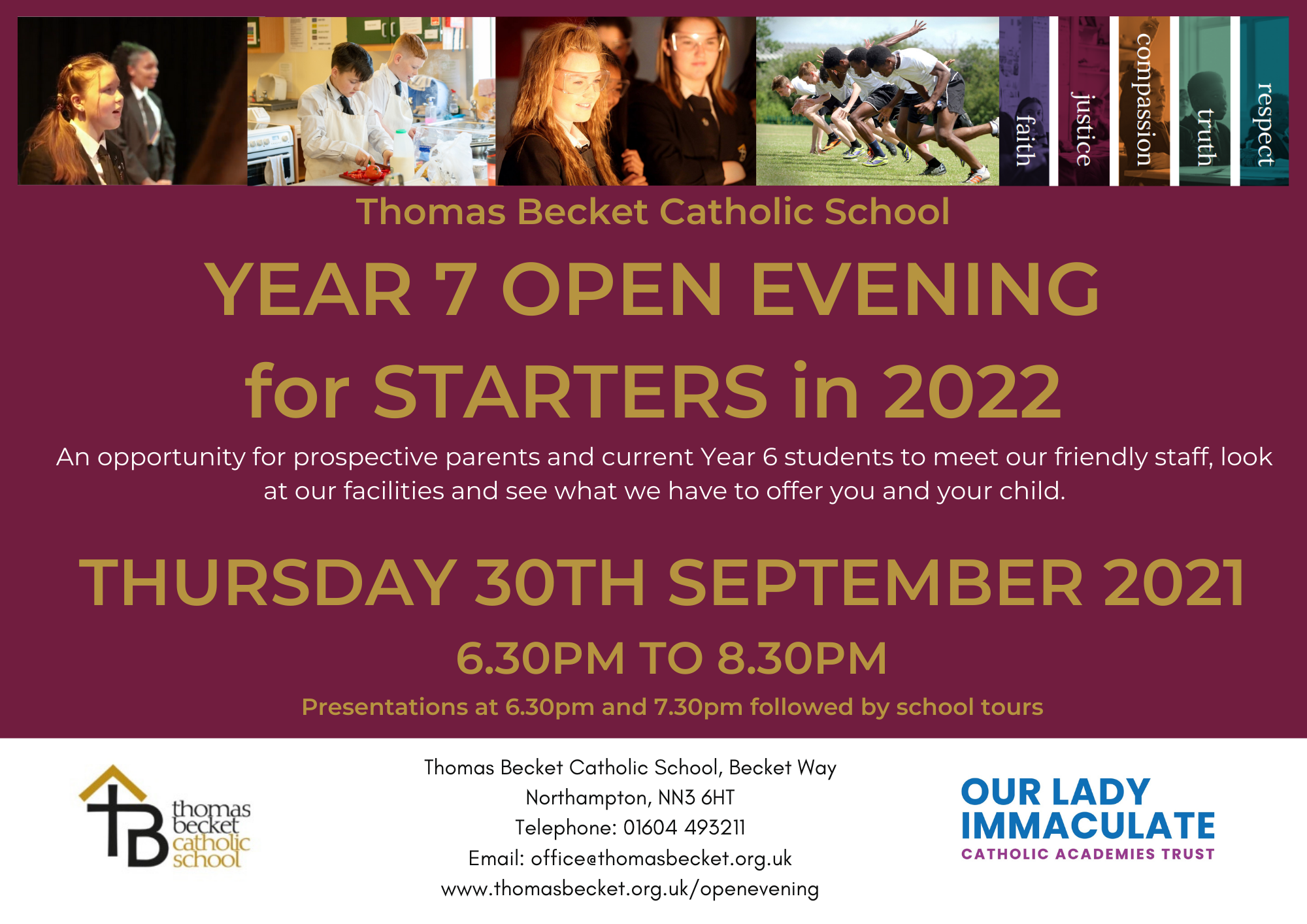 There will be two presentations at 6.30pm and 7.30pm and our VI Form students are on hand to take you on a tour of the school, answer your questions and introduce you to the teachers and meet some of our students.
To minimise the numbers attending, we are allocating ideally 2 places per family please; one parent/carer to accompany their year 6 child.
There is plenty of onsite parking available.
If you have any questions, please do not hesitate to call the school office on 01604 493211 and we will be happy to help. We hope you can join us to find out about life here at our school, a warm welcome awaits!
September 2022 Year 7 Open Evening Tickets, Thu 30 Sep 2021 at 18:30 | Eventbrite
At Thomas Becket Catholic School we are delighted to welcome students from across the local community. We hope that you enjoy your virtual tour of our school.
BOOK A PLACE AT THE OPEN EVENING
Find out more about the Pastoral, Inclusion and Chaplaincy support that Thomas Becket can provide your child, as well as further information about our wide and varied Curriculum and Enrichment activities we have on offer, including our Electives Programme.
If you are currently in year 6 it can seem a big step to move up to year 7 and on to the next stage of your journey with us at Thomas Becket but rest assured it is a top priority for us that you settle into life here quickly and happily. We work closely with our local Primary schools to ensure a smooth transition and to support you throughout.
Our school/ home partnership is incredibly important and the past few months have highlighted the strength of our community relationships.
We invite you to Meet our Parents and take a listen to their positive experiences over the past 6 months and of the support given to students and their families during these challenging times. Please do also share in our celebrations for the Year 11 and Year 13s - we are so proud of their achievements and the doors that have now been opened up to them for the next stage of their educational journey.
All learners in Year 7 and across the school are given the opportunity to learn a musical instrument. Find out more here about our new Make Music for All programme which offers significantly subsidised peripatetic lessons, along with many opportunities to perform in choirs, brass band and wind band across the year.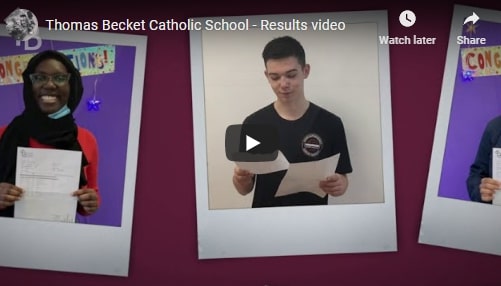 If you would like to see our school in action, please do get in touch with our school office to arrange a school tour.
To find out more and apply for your place at Thomas Becket, please visit our How to Apply For a School Place page.
If you need any assistance with an application, please feel free to call us on 01604 493211 and we will be happy to help.
We look forward to welcoming you to Thomas Becket.