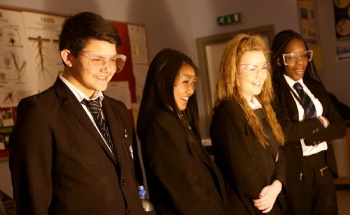 Please join us on Thursday 30th September at 6.30pm-8.30pm
There will be two headteacher talks at 6.30pm and 7.30pm and our VI Form students are on hand to take you on a tour of the school, answer your questions and introduce you to the teachers and meet some of our students.
CLICK HERE TO BOOK: September 2022 Year 7 Open Evening Tickets, Thu 30 Sep 2021 at 18:30 | Eventbrite
To minimise the numbers attending, we are allocating ideally 2 places per family please; one parent/carer to accompany their year 6 child.
There is plenty of onsite parking available.
If you have any questions, please do not hesitate to call the school office on 01604 493211 and we will be happy to help. We hope you can join us finding more about life here at our school, a warm welcome awaits!
Thomas Becket Catholic School
Becket Way
Northampton
Northamptonshire
NN3 6HT
Telephone: 01604 493211
Email: office@thomasbecket.org.uk
Find out more about life in Year 7 here