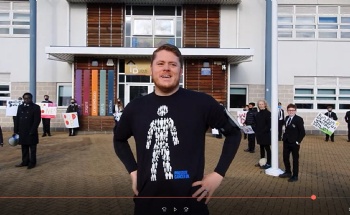 Mr Jones finished his final mile of the running challenge on the grounds of the school, welcomed by socially distanced students holding banners and bunting.
We are all so proud of Mr Jones, who has successfully completed his incredible 52 mile challenge and raised over £500 in aid of Prostate Cancer UK
Mr Jones, our Head of Year 7, completed his final mile in the school grounds this afternoon. It was an emotional and uplifting end to the challenge, with socially distanced students excitedly supporting with banners and bunting.
Congratulations Mr Jones!
To find out more about the challenge and to donate if you are able, please visit: https://runthemonthme.prostatecanceruk.org/.../g-joness...
For more information about Prostate Cancer, click on this link: https://prostatecanceruk.org/