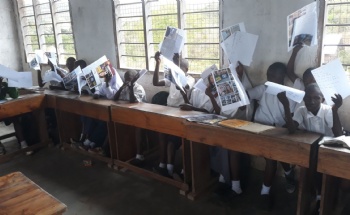 We are excited to announce our involvement in a new project working with schools in our Trust, the British Council and three schools in Tanzania
Our IT Teacher, Balazs Kecskemeti is part of a UK Connecting Classrooms cluster along with Dominique Smith of the Good Shepherd Catholic Primary and Sarah Meeks at St Edwards Primary - all three schools are part of the OLICAT Schools.
The UK cluster is working with three schools in Tanzania, with a project based on Sustainable Development Goals.
School coordinators ensure that tasks are completed in class, the results are shared and discussed. The Transnational Project Meetings provide a valuable platform for sharing good practice and above all making global learning accessible for all our pupils.
All the teachers involved are working exceptionally hard to bring the excitement of collaborative work to a new level.
They have been supported by the British Council and Linda Barker of Global Learning London. We look forward to keeping you updated as the project progresses.