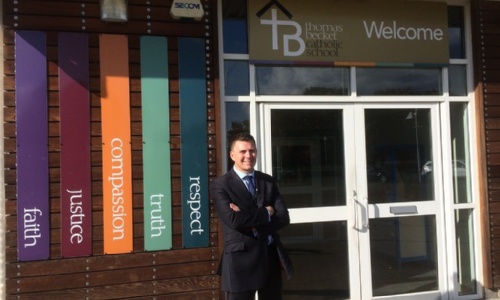 Chronicle & Echo Report: "A new leader has brought a new approach to students at Thomas Becket Catholic School. Ciran Stapleton joined the school as their new Headteacher just before the Summer break from St Joseph's Catholic High School."
During his time at the Slough school, Mr Stapleton was praised by Ofsted for the progress the school made under his leadership saying that he helped to "transform the culture" as well achieve significantly improved results.
Mr Stapleton is now drawing on these experiences to help students at Thomas Becket Catholic School, on Becket Way, Northampton, achieve their aspirations and goals.
"The one thing that struck me when I arrived at the school was the potential that this community has," said Mr Stapleton.
"Our students are fantastic individuals and learners, the staff are passionate about delivering a first class education and we have some great facilities."
"What I have been keen to do, however, is to bring about change that not just improves results, but also strengthens the school's Catholic values and ethos."
As part of this, a new house system has been adopted; with every student now allocated to a house linked to one Thomas Becket's five school values.
Mr Stapleton added; "This will not only enhance our sense of community and pastoral support, but also provide leadership opportunities for our student body."
In addition, a comprehensive staff development programme has been introduced with two hours of training each week ring-fenced to allow educationalists to share ideas and best practice. A new rewards programme is now in place to recognise student's good behaviour and achievement.
"The impact has already been really pleasing."
"Lessons are more focused, students seem really engaged with the changes and the feedback from our open evening was fantastic."
"I have every confidence that Thomas Becket Catholic School is on a very exciting trajectory."