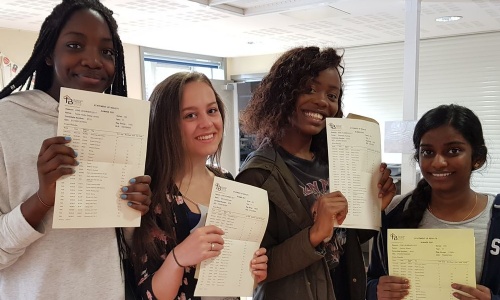 According to the school's new Headteacher, Ciran Stapleton, the Class of 2017's results are a fantastic platform for the school to build on.
"I want to congratulate the students, their families and staff for all that has been accomplished. We should all be very proud of their successes.
"These young people have raised the bar and set a new important milestone for us. I want future year groups to see what has been achieved and use this as motivation to give us even more reasons to celebrate in the future. It's great to see such an uptake for the Sixth Form here."
Among those students who have excelled were Henna Wilson, Weronika Hinc, Sally Curtis, Norbert Gawrysiak and Josie Diaby, who all secured a raft of A*s, As and Bs.
Henna, who achieved an incredible 5 A*s and 5 As (or their equivalent), said: "I am really happy with my grades – all my hard work really paid off."
Mr Stapleton joins Thomas Becket from St Joseph's Catholic High School in Slough, which under his leadership celebrated its best Ofsted result in a decade, saw numbers grow and results strengthen significantly as the school became one of the most improved schools in the country in a rapid period of time.
"I was lucky enough to spend the last few weeks of the Summer term at Thomas Becket, and during this time I started to get a feel for the potential that the school has.
"Just looking at today's results you see that there have been both individual successes and strong performances by Departments across the school. We rightly should take this moment to celebrate these achievements, and then look forward to the future with excitement and determination."