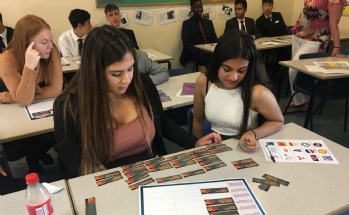 Our Year 10 students participated in a Sixth Form Taster Day where they were immersed into life as a Sixth Form student here at Thomas Becket.
Students participated in a variety of lessons to give them a greater insight into the areas, learning and assessment styles and rigour of Level 3 study.
Alongside subjects they are familiar with, they were also introduced to a number of new subjects not taught at Keystage 4 such as Psychology, Media and Law.
We were really impressed with their level of engagement, focus and enthusiasm during lessons and we hope this will form the basis of discussions about their Post 16 plans. As it is now a requirement that all students are in education until the age of 18, it is imperative that you speak to your child to discuss their experiences and current thoughts regarding their study next year. Thomas Becket VI Form is committed to supporting all of our students in whatever choices they make, but can boast the familiarity and close levels of support that only we can offer.
If you have any further questions about how we can help your child through their transition, please do not hesitate to contact us.