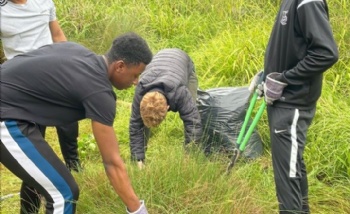 Today marks our annual VI Form Community Day, an opportunity for students to volunteer in the local community
We are proud of all the students taking part to help improve areas of their local community. We are working with local schools and charities, as well as cleaning the local area and working on the school grounds too. Thank you to our community partners for welcoming our students and well done to all taking part and volunteering their hard work, time and skills today.
The Good Shepherd Primary School – providing in-class support to every class in school
Bridgewater Primary School – supporting the launch of their Forest School and regenerating their Swail area
Cynthia Spencer Donation Centre – helping to sort, tag, send donated items to raise money for the hospice that is very local to the school
The surrounding area and Eastfield Park – students are going to be tidying and litter picking to improve the local area for residents
The school prayer garden – students will be painting, weeding, pruning and generally rejuvenating the prayer garden so that once again becomes a place where staff and students can have some time for quiet reflection and hopefully play host to some form reflection times and small services.